AUTOMATIC SAND FILTERS IN BATTERY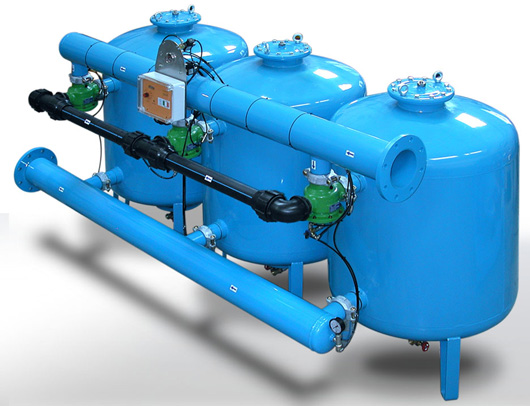 They are available in painted or zinc coated steel and are supplied complete with automatic hydraulic valves and electronic control box for the automatic back-washing.
The advantage given by the filters in battery is the continuity in filtration because the back washing cycle is carried out in alternative way (one filter carries out backwashing while the others keep filtering – see backwashing).
Moreover, the back-washing is carried out using clean filtered water.

This system represents a highly reliable and professional product offering continuous performances without any maintenance interventions.

Remark: the sand filters batteries are available on the catalogue, with two different types of valves according to the investment and to the requests during design phases.

Configuration with 2 x up to 8 x
(see plans number ▼)
Click on the images to see images
Images:






Vertical automatic static sand Arena filters
Automatic vertical filters with side inlet/outlet

Part no.

Type

Flow rate

ARBAT101



Battery 2x500 DN 80
800 Lt/min - 48 m³/h
ARBAT102

Battery 2x600 DN 80
940 Lt/min - 56 m³/h
ARENA vertical sand filter - head inlet /outlet

Part no.

Type

Flow rate

ARBAT103
Battery 2x750 DN 100
1140 Lt/min - 68 m³/h
ARBAT109
Battery 3x750 DN 125
1700 Lt/min - 102 m³/h
ARBAT110
Battery 4x750 DN 150
2270 Lt/min - 136 m³/h
ARBAT104
Battery 2x900 DN 125
1470 Lt/min - 88 m³/h
ARBAT105
Battery 3x900 DN 150
2200 Lt/min - 132 m³/h
ARBAT106
Battery 4x900 DN 150
2940 Lt/min - 176 m³/h
ARBAT107
Battery 5x900 DN 200
3670 Lt/min - 226 m³/h
ARBAT108
Battery 6x900 DN 200
4400 Lt/min - 264 m³/h
ARBAT113
Battery 8x900 DN 250
5900 Lt/min - 352 m³/h
ARBAT111
Battery 2x1200 4" DN 150
3070 Lt/min - 184 m³/h
ARBAT112
Battery 3x1200 4" DN 200
4600 Lt/min - 276 m³/h
ARBAT114
Battery 4x1200 4" DN 250
5500 Lt/min - 330 m³/h
ARBAT115
Battery 6x1200 4" DN 250
8600 Lt/min - 520 m³/h
ARBAT116
Battery 8x1200 4" DN 300
11830 Lt/min -710 m³/h